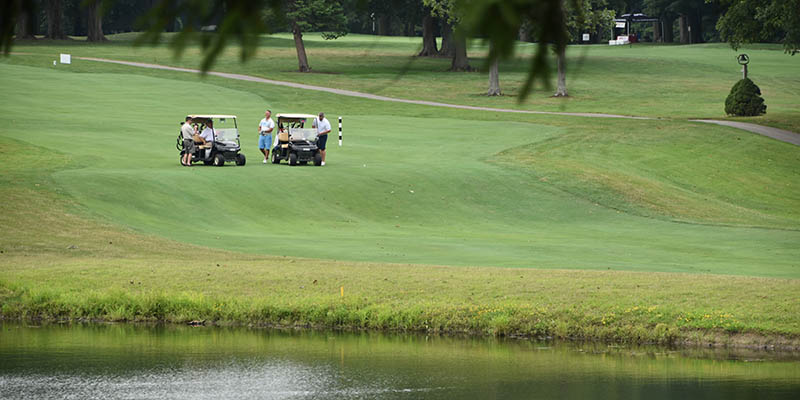 Summer Rates
| | | |
| --- | --- | --- |
| Monday – Friday | Resident | Non-Resident |
| 9 Holes | $13.00 | $13.50 |
| 9 Holes – Senior | $10.25 | $10.75 |
| 18 Holes | $23.00 | $24.00 |
| 18 Holes – Senior | $17.75 | $18.75 |
| | | |
| Monday – Friday Special – with Cart | | |
| 18 Holes | $27.50 | $28.50 |
| 18 Holes – Senior | $23.50 | $24.50 |
| | | |
| Saturday & Sunday | Resident | Non-Resident |
| 9 Holes | $15.00 | $15.50 |
| 18 Holes | $26.50 | $27.50 |
| | | |
| Saturday Special – After 12 | | |
| 18 Holes w/ Cart | $35.00 | $36.00 |
| | | |
| Golf Cart Fee | | |
| 9 Holes | $7.50 | |
| 18 Holes | $15.00 | |
| | | |
| Practice Balls | | |
| Small Bag (40 balls) | $5.75 | |
| Medium Bag (55 balls) | $7.50 | |
| Large Bag (90 balls) | $9.50 | |
| | | |
| Range Passes – Practice Center | | |
| 6 Small Bags | $28.75 | |
| 6 Medium Bags | $37.75 | |
| 6 Large Bags | $47.50 | |
---
Resident Rates
To qualify for the resident rate, you must show proof of residency; ie – driver's license or a photo ID along with a current home utility bill.
Junior Golfers
A round of golf is a great way spend time with the kids and introduce them to the game. Juniors (under 17) play FREE when accompanied by a paying adult anytime Monday's, Tuesday's, and Thursday's, and weekends/holiday's after 3 pm. Limit 1 junior per paying adult. Each Thursday morning, over 100 juniors tee up for 9 or 18 holes in a our Junior Golf Program which includes instruction from our professional staff.
Senior Golfers
Senior rates are available for those 60 and over.
Payments
Discover, Visa & MasterCard are accepted. Prices subject to change.